Posted on
By Jorien Vriese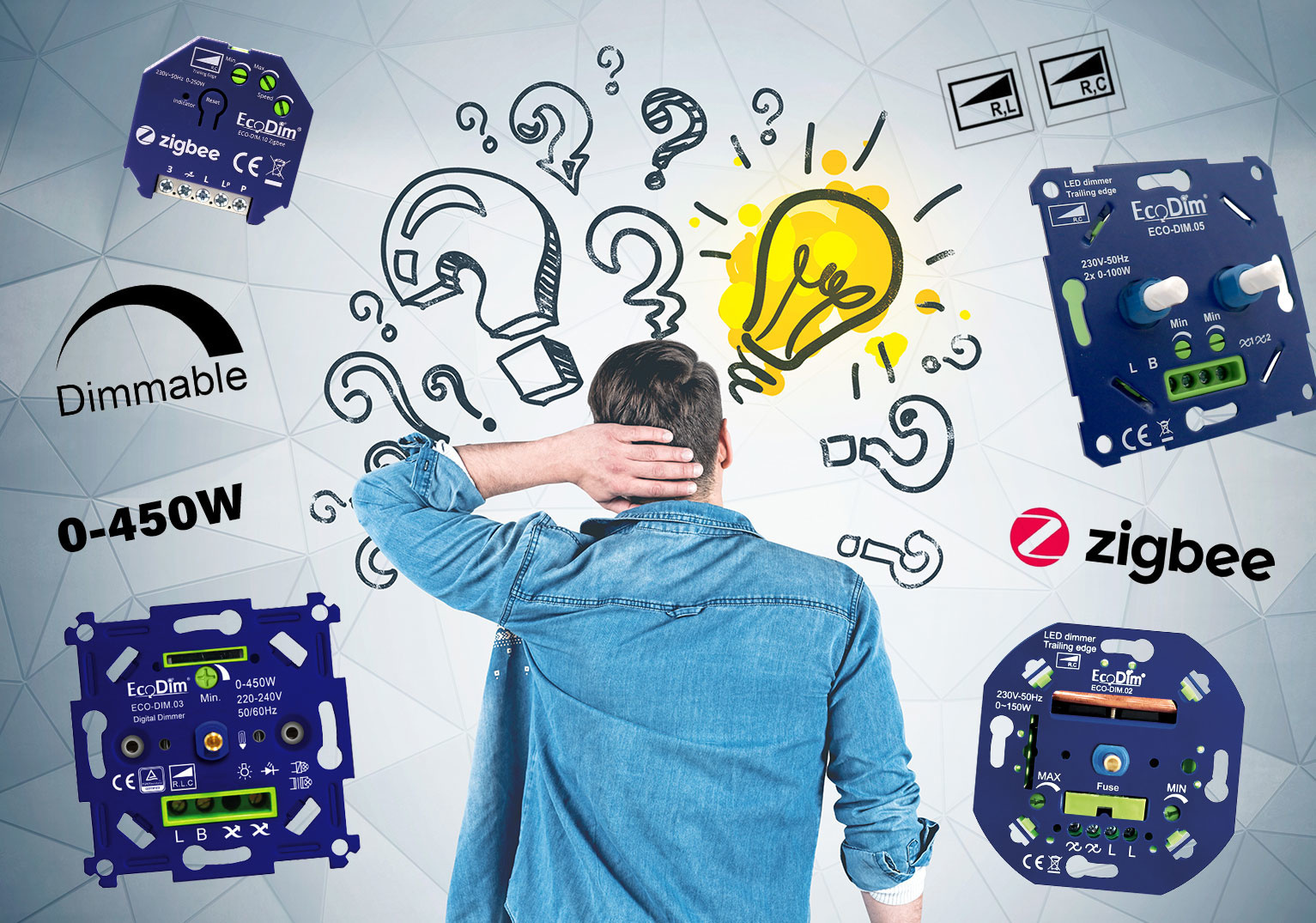 Which LED dimmerdo I need and what should I look out for when buying one? An LED dimmer is an LED dimmer, right? From the outside, most LED dimmers do indeed look similar. Only the inside and the technology can be completely different, so one LED dimmer is not the other. There are different types of LED dimmers. To get a good dimming result, there must be a proper cooperation between the LED lamp and LED dimmer. Below are the most important things to consider when buying an LED dimmer.
1) Are the LED lamps dimmable? What kind of dimmable driver?
First of all, it is important to check whether your LED lamps are dimmable. After all, if the LED lamps are not dimmable, you cannot dim them. Not even with a special LED dimmer. In addition, a large part of the dimmability can be attributed to the dimmable driver in the LED lamp. You can often find the logo below on the packaging of the LED lamp when it is dimmable. When nothing about dimmability is mentioned, you can assume that the LED lamps are not dimmable.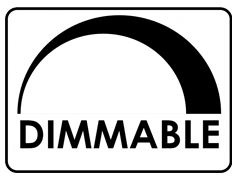 The driver is a small component that makes the LED lamp dimmable. When a dimmable driver is of poor quality, the LED lamp will not be able to dim as far back as an LED lamp with a quality dimmable driver. The driver also determines whether this should be done with a phase cutting or phase cutting technique.
2) Which dimming technique do I need? Phase on or phase off?
As described above, there are lamps that work with phase cutting (RL) or phase cut-off (RC). Without going too much into the technology, because then it becomes quite technical, this basically means that there are two different dimming techniques. So if a light works on phase cut, it will not dim nicely on a phase cut dimmer and vice versa. Experience shows that over 90% of the LED lamps on the market work best with a phase cut LED dimmer.How can we recognise these techniques? What is this also called in the market?
Phase cut - RL - leading edge - TRIAC - Magnetic
Phase cut-off - RC - trailing edge - TRONIC - Electronic
The signs of the dimming technology are often shown on the LED dimmer.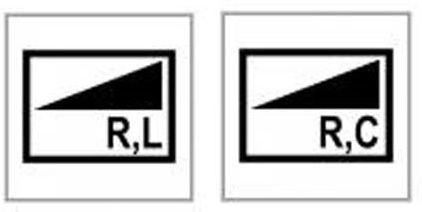 So always choose the same dimming technology for both the LED lamp (or LED driver) and LED lamp. Do you not know which dimming technology your dimmable LED lamp or dimmable LED driver works with? Then go for a universal LED dimmer, such as the ECO-DIM.01 or ECO-DIM.03. These both work on both RL and RC LED lamps.
3) How much LED power can I connect to it?
Once the choice of dimming technology has been made, it is advisable to check how much power can be connected to the dimmer. This is often indicated on the dimmer. If in doubt, ask the supplier whether this concerns LED power or halogen power, as this can differ. LED power is often lower than the halogen power you can connect to the same dimmer. At EcoDim, we always put the LED power on our dimmers. For example, this is 0-150W LED power. The halogen power you can connect to this same dimmer is higher, e.g. 0-400W.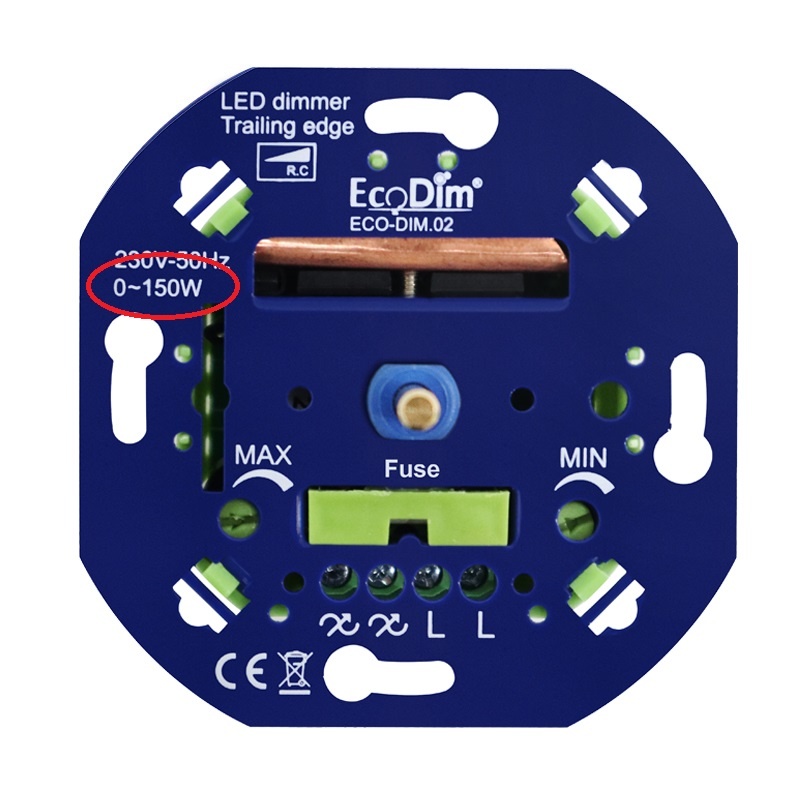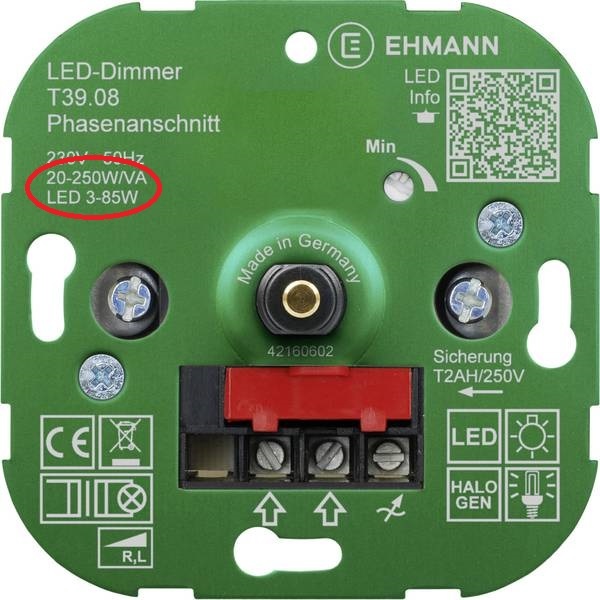 Tip 1: We recommend not connecting different loads to the LED dimmer (e.g. halogen and LED mixed together). You get the best dimming result when all the same lamps, with the same wattages and the same manufacture are connected to one LED dimmer. This way, all dimmable drivers of the LED lamps react in the same way to the dimmer, which prevents a skewed dimming image.Tip 2: Add up the connected LED wattage and you will know how much LED power you need from the dimmer. Always leave a small margin for the PowerFactor (additional consumption). Most EcoDim dimmers already have a very large LED power of 0-150W. Do you need even more power? Then go for the ECO-DIM.03 0-450W, especially for large amounts of LED lamps or large wattages.
4) What adjustment options does the dimmer have?
Adjustment options are important to get the optimal dimmability out of a given set. As mentioned earlier, the dimmable driver is also very important for dimmability. When the LED dimmer has adjustment possibilities in the low and high light level, you can always get the best possible dimmability from the LED lamp. This has to do with the dimmable driver that is in the lamp base or connected externally. With our EcoDim LED dimmers, you always have a MIN setting and in most cases also a MAX setting. You can then use a screwdriver to set the minimum and maximum light levels stably and manually adjust the light output and light stability. If you go too far, the light will start flashing. Then you will know to turn up a little further until the lamp burns stably again. This way you will always get the best dimmability out of every LED lamp.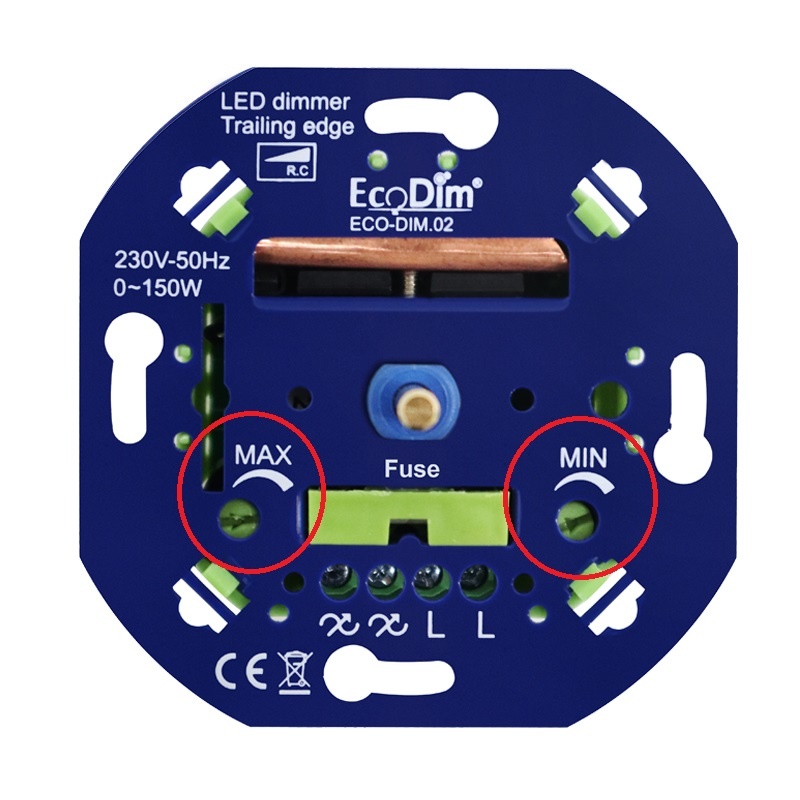 5) Can the dimmer be used in a changeover/hotel circuit?
If you want to switch one group of lamps from two sides, you can do so by making a two-way/hotel circuit. Your dimmer must be suitable for this. Almost all EcoDim recessed dimmers (except the ECO-DIM.05 duo LED dimmer) are suitable for two-way switching/hotel switching. The switching wires are shown on EcoDim led dimmers with the sine-wave icon (wave with arrow through it). These are the connection points for the two black switching wires.
6) Is the dimmer suitable for my cover material?
If you already have cover material or prefer a specific brand of cover material, it is nice if the recessed dimmer fits behind the existing cover material. At EcoDim, we have had various attachments developed that come standard with the dimmers. This makes the built-in dimmers suitable for all well-known A-brands of cover material.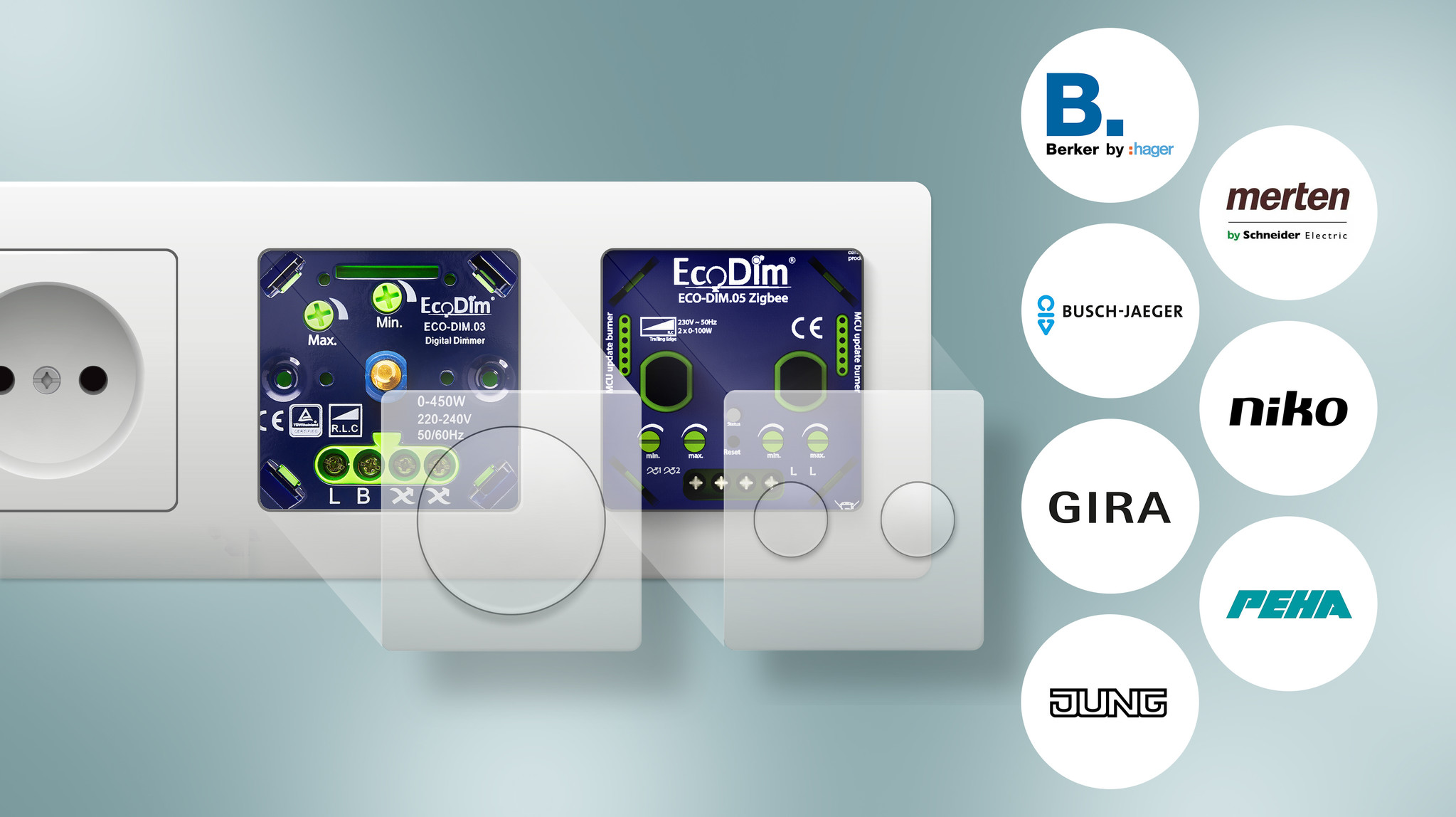 n
7) Should I consider a 'smarthome' now or in the future?
Are there rooms that need to be controlled via a smarthome app now or in the future? This could be that you want to use a Philips Hue, HOMEY, FIBARO, Trust, AduroSmart or other smarthome app now or later. These allow you to control your lighting by voice (using Google Home or Amazon Alexa), as well as via your phone. And what we at EcoDim have taken into account is that the smart dimmers can also 'just' be operated with the familiar wave of the hand. For modern households, dimmer modules (pulse dimmers) are also available.Advantages of the smart dimmers is that you can connect all dumb dimmable LED lamps, so you are not limited in terms of choice in your lighting. With this smart control, you can dim your lighting from the comfort of your armchair or from outdoors. If you want to 'smart' control certain rooms now or in the future, you can choose a smart dimmer now, with the Zigbee dimmer being by far the most popular in the Netherlands. You can then still operate the dimmer in the traditional way, and so you retain the option of using the same dimmer in a smart home system in the future.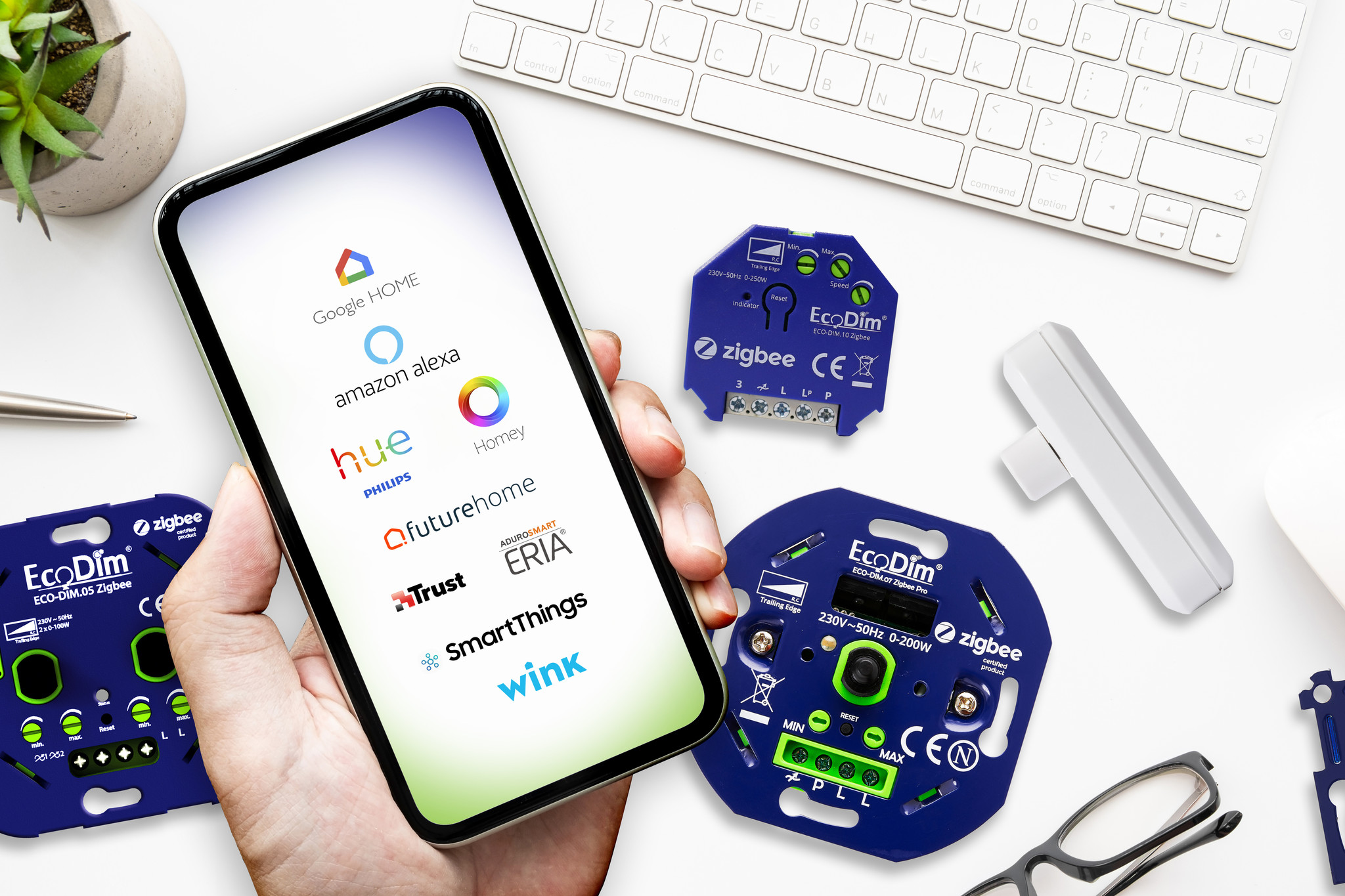 Finally, of course, you should be satisfied with the purchase price of your dimmer. If you have any questions about the above steps or if we can be of service to you in any other way, please let us know.Interested in our LED dimmers? View the complete range here or feel free to contact us!