New in the EcoDim range: ECO-DIM.11 Multicontrol. This is a special LED dimmer that allows you to create a two-way switch with several LED dimmers. Whereas you can normally only use one dimmer and one or a few switches in a two-way switch, this dimmer is suitable for controlling/dimming one group with several dimmers. The dimming setting is transmitted between them, so the start-up always happens at your last used light setting.
Main points ECO-DIM.11 Multicontrol:
Two-way/multi-dimmer switching
0-250W (RC) LED
Suitable for all A-brands of cover material
Small mounting depth
Manual MIN & automatic MAX adjustment
Soft-start system
2-wire connection (no neutral wire required)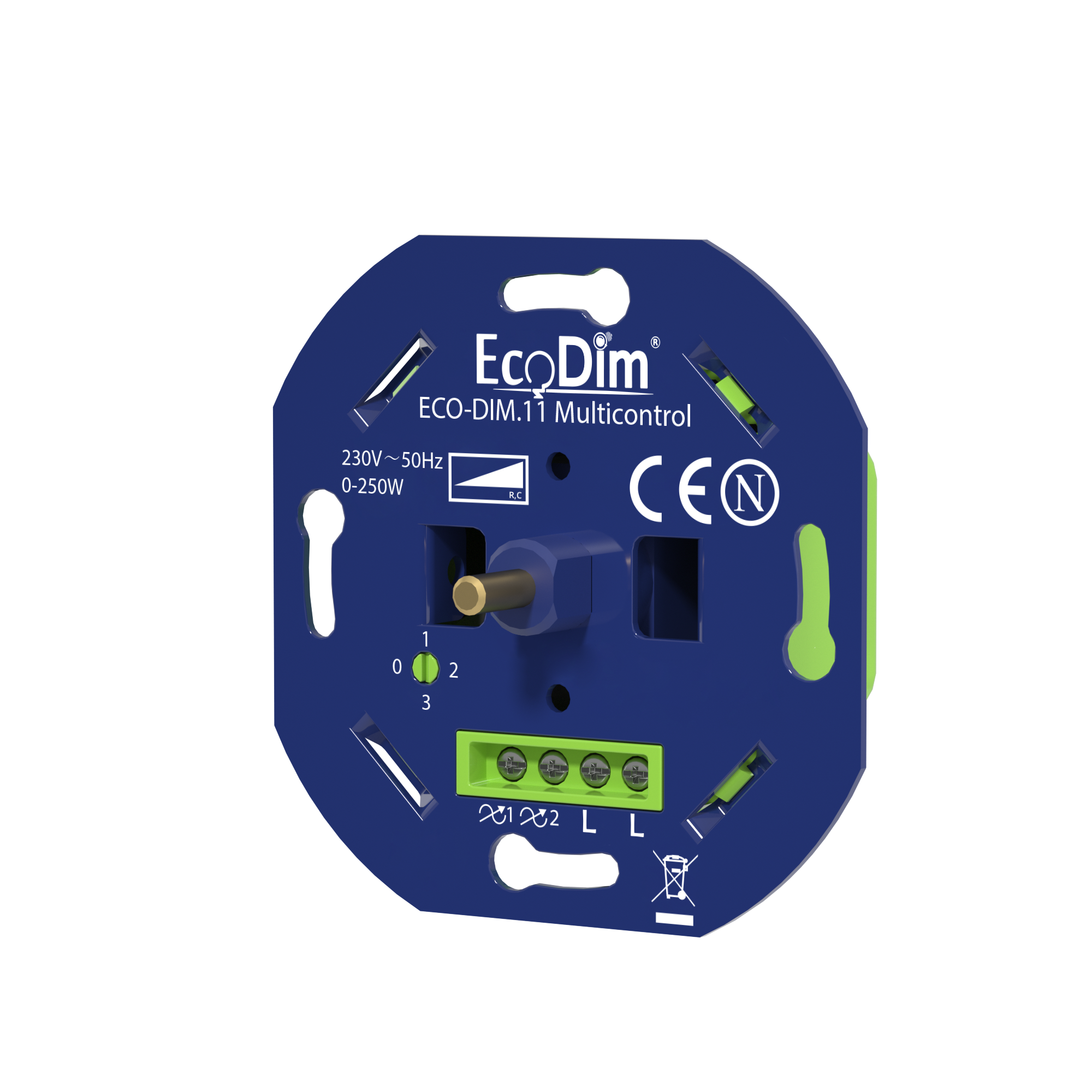 Multi dimmer switching
The name "multicontrol" says it all. Besides being able to use this EcoDim dimmer simply as a standalone, you can also connect it in changeover switching with multiple dimmers. This way, you can connect up to twenty of these dimmers to the same group of lamps.
With conventional LED dimmers, two-way switching was also possible, but only with an on/off switch on one side. With the ECO-DIM.11, it is therefore possible to dim the same group of lights in several places.
0-250W LED
The ECO-DIM.11 Multicontrol has a very large connection capacity of no less than 0-250W LED. This makes the dimmer suitable for very small as well as quite large total wattages. The low minimum connection capacity also benefits dimmability.
Suitable for all brands of cover material
The dimmer is delivered including the well-known EcoDim fittings and therefore fits behind all A-brand cover materials:
Berker by Hager
Busch-Jaeger (except 6540-7x)
Gira
Kopp
Merten by Schneider 51xx and System M
Niko (except XXX-31003 and PR20)
PEHA
Small recessed depth
With a recessed depth of only 23mm, this dimmer is easy to install in any recessed box.
MIN & MAX
The MIN adjustment on the dimmer allows you to set the minimum light of the lamps. This allows you to get the best dimmability and light stability out of every LED lamp. The dimmer also features automatic MAX detection.
Soft-start system
Furthermore, the ECO-DIM.11 Multicontrol features a soft-start system. The soft-start system ensures that the LED lamps gently turn on at the last used dimming setting - even in low light levels. This means you do not see a flash when starting up the lights. Pleasant for your eyes, but also for the LED lamp.
2-wire connection
Finally, the connection is very user-friendly thanks to the 2-wire connection. Ideal for the renovation market, but also for new buildings. So you do not need a 3rd wire/neutral wire for excellent dimming.
The EcoDim Multicontrol dimmer will be available from mid-January 2022.
Want to know more? Then go to the ECO-DIM.11 Multicontrol.